Hello everyone,
I left you all at Ruth Dudley Edwards' fabulous launch party, full of show business people and politicians and journalists. To cut a long story short I was invited to a showbiz/authors party in the South of France by her nibship, Celia Imrie. It was a long way to go but I booked a flight with Aer Lingus, to say nothing of an hotel, and then I missed the plane. I just arrived too late, when it was already boarding, and retreated home with a flea in my ear. Talk about disappointing.
My next excitement, however, was going down to Cambridge to have lunch with my favourite American Judge, Marty Feldman (yes, he does know that he has the same name as a famous British comedian). I signed a copy of Death and the Black Pyramid for him, and then he went back to New Orleans. He is a very powerful person in that city and I once had the privilege of visiting his court - only as audience I hasten to add.
Next week saw me in Cambridge again for Bodies in the Bookshop, where my readers turned out in force (see last newsletter for photographs.) After this grand event I hurried back to darkest Sussex where I was visited by Nick and Jane, two of my most glamorous and gorgeous friends. She is without question the most beautiful girl I know.
The photographs are going to start here because the following week I attended the Crime Writers' Association's Summer Party, held in the Sherlock Holmes hotel. I went with Mark Dunton and James Cronen who work at the National Archives. Mark is the one with two lamps behind him; James, as I know I've told you already, appeared on television with Kevin Wbateley in Who Do You Think You Are?.
The next week saw me dressed to the hilt at Glyndebourne. My escort on this occasion was His Hon. Judge Purle, Q.C., known to his friends as Charles. We went to see L'Elisir d'Amore, which was truly great. The tenor in particular was outstanding and after his solo Una Furtiva Lacrima there was a moment's silence and then thunderous applause and cheering. The photograph was taken at dinner and any resemblance between the man sitting behind Charles and David Stuart Davies is purely coincidental. By the way my Italian is not so hot so I apologise now for any mis-spellings.
Now I want to introduce you to my glamourous hairdressers. First, in pink, is my regular hairdresser Gemma; next, with the hoop earrings, is Jodie who does my hair on Gemma's day off; and finally comes Hannah, with the blonde client. They are all so attractive and since the photograph, Gemma has had her hair cut short which suits her even better.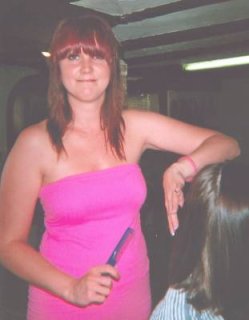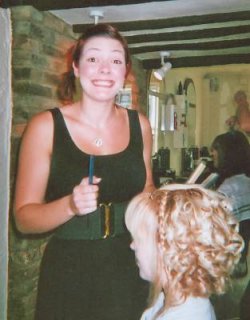 The next week I had my grandson, Fintan, to stay and took him to Sadler's Wells, alongside my granddaughter Amelia, and their adopted Aunt Beryl - actually my very old friend Beryl Cross - to see the brilliant Adam Cooper in Shall We Dance.
The next week saw me with the entire contingent of grandchildren - who have been unofficially adopted by Lindsey Davis - go to the Royal Naval College at Greenwich to celebrate her sixtieth birthday party. It was a truly wonderful occasion, the children behaved perfectly and looked good and I kept being congratulated on having such a marvellous bunch. Which was very nice but I was thinking about their parents who had done all the work.
And there you are, my friends, up to the beginning of September. I did many exciting things then but I have decided to keep you in suspense until next time. Meanwhile wish me luck. I am struggling to bring out The Mills of God by the end of November. Time is of the essence.
Very best wishes to you all - and keep reading
Deryn (Lake)
October 2009