Hello everybody,
There's so much to tell you that I hardly know where to begin. First of all, in mid May I went to the Savoy with a group of friends to see Elmore Leonard receive the Diamond Dagger, the highest award that the Crime Writers can give to another writer. Elmore turned out to be an nice old boy, quite modest, who made a short but humble speech and was presented with his award by Monsieur Arnaud Bamberger, a delightful and charming Frenchman who is the managing director of Cartier - it really is a diamond dagger! It was an excellent occasion and we all drank a lot of champagne and had a good time.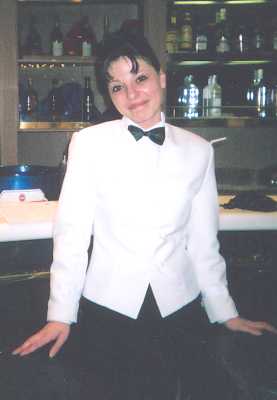 Then I went on the most fantastic cruise accompanied by my mate Mark Dunton. We sailed with Travelscope on board the Athena, our destination being the Baltic Capitals. To say I had the time of my life would be an understatement. We bad a super cabin, the entertainment on board was first class, as was the service. Just to add to the spice of life our cocktail pianist - Luden - turned out to be the conductor of the Bucharest Opera. Indeed many of the staff were Rumanian, working terribly bard to make ends meet. And all of them were charming, naturally so, and really put themselves out to make things pleasant for us.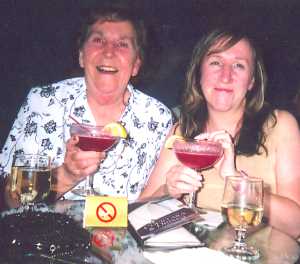 I presented the library with copies of my first six John Rawlings mysteries and was subsequently asked to give a talk to the passengers. I was allocated the cinema - no film running I might add - and about sixty people turned up. Everybody enjoyed it and I have since signed up with an agency that deals in providing speakers for cruises. We await developments!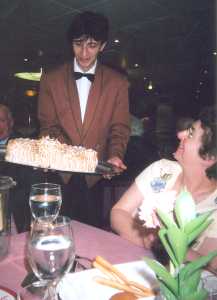 Incidentally I met two of my fans in the library, Greta and Kathryn Radmall, both of whom have read most of my books. They came to the talk and allowed me to take their photograph sampling the cocktails. I have also included a photograph of our charming cocktail waitress and our waiter, George, both Rumanian. The fourth photograph is of Reg and Marjorie Budd, our delightful dining companions who contributed to the fun enormously. Reg even came all the way from Wales to celebrate my book launch (but more of that in my next letter).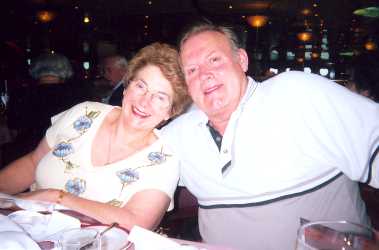 As you can imagine we had many shore excursions in Denmark, Sweden - a beautiful country and well worth another visit - Estonia, Russia and Finland. I have to tell you now that Russia stole my heart. I had been to Moscow before but this time I went to St. Petersburg and it truly is the Venice of the North. We went to the Winter Palace, the central staircase of which is quite indescribable in its magnificence, and also to the Hermitage, which is attached to the main building. We literally whizzed round the great art treasures - I think they have more Rembrandts than anywhere except Holland - and then went upstairs to see the Impressionists. I gazed at Van Goghs I had never seen before, at Gauguins, Monets, Pisarros, Degas. I could go on and on. They say that to see everything in the Hermitage would take a whole year and I believe them.
But the most outstanding place of all for me was the Catherine Palace at Tsarkoye Selo, which means Village of the Tsars. It truly was the finest building I have ever seen and contained the fabulous Amber Room, which has been totally restored after the Nazis, who occupied the Palace, took every piece of amber out of the walls and left the place in ruin. Our guide, Olga - a pure delight - told us that President Putin has poured millions into the restoration of the palaces and, indeed, the restorers were at work during our visit. If ever any of you get the chance to go on this fabulous trip please do so. I promise you won't be disappointed.
The last photograph is of Mark and myself, together with the Captain of the Athena, waiting to go in for dinner. I hope you like it. I do because it recalls such happy memories.
Next time I will tell you all about my book launch, but till then take care,
Deryn Lake
XXX
June 2006