I feel quite certain that most of you have lost interest in me for being quiet for so long - but the answer is that since March I have been working - and I really mean striving - to produce another book, which I have at long last finished and am now waiting anxiously to hear from my editor. And talking of my editor, dear James Nightingale, he is leaving Severn House Publishers and I shall be losing his kindly way of dealing with me. He is so amiable and so tactful that I always act on his suggestions and I shall miss his gentle - and very clever - touch. I do wish him the very best of luck in his new job with Atlantic Publishers.
I expect you will want to hear about my adventures - what there were of them! I rather reluctantly went to Lanzarote just before Christmas. And I do mean just before, as I arrived back late at night on the 20th December with not one present bought. However, my friend Yvonne was most anxious to get away from the winter and eventually she, Jane - another good mate - and I set off for the magic island. I had visited the place once before, only spending a day there, and I must confess that it had lost none of its charm. A great artist - César Manrique - who was a cohort of Picasso and Dali, consequently very big on the international scene, was born on the island and when the rest of the Canary Islands were building monstrous huge tower blocks of hotels e.g. Tenerife, he insisted that Lanzarote retain its old world charm and that no building should be higher than three storeys. Consequently it is a pleasure to look at and, of course, it has such amazing and breath-taking scenery.
We were booked in at a truly beautiful hotel and enjoyed it all enormously. The highlights - for me anyway - were a visit to the Ring of Fire, the fabulous volcanic area which literally could be on the moon, the most marvellous back massage I have ever had, and a visit to César Manrique's house built in 1968 inside a lava coulee, a legacy of the devastating eruptions that afflicted the island between 1730 and 1736. It is a magnificent place and the way it incorporates nature with a dwelling quite took my breath away. We had a wonderful tour guide for this trip, a man who spoke five languages effortlessly and changed from one to the other with breakneck speed. His name is Abrie de Beer and I would advise anyone going to Lanzarote to try and obtain his services. The next night Yvonne and I went out to dinner with him and a very good time was had by all.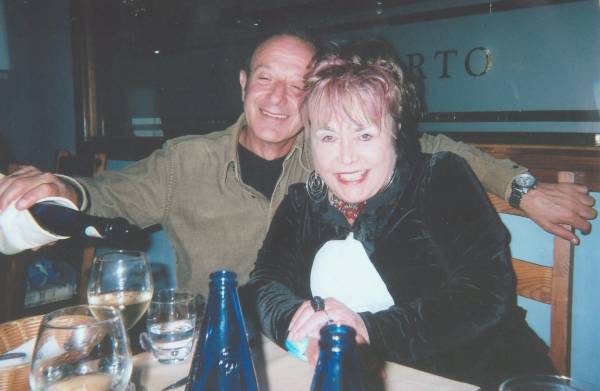 I plunged back into preparations for Christmas, did my shopping in three days flat and had a quiet but pleasant time with my family. Then I got down to serious work and that, other than tea at The Ritz for my birthday and a visit to Babylon - the restaurant built over the famous roof garden at the former Derry and Toms - with John Elnaugh, was that. Just a note to say to whoever owns the roof gardens that they looked somewhat dilapidated to me. There really were pink flamingoes but they were standing in a dirty little flow of water and looked miserable. Come on owners, if you want to encourage the tourists you'll have to buck your ideas up a bit.
Anyway, to the work front. Death at the Wedding Feast has just come out in paperback and looks terrific so I would enjoin anyone who couldn't afford the hardback - and tell me who that isn't, in these poverty-stricken times in which we're all living - to buy it. The cover has come up even more strikingly and I think it looks great. l have just finished Dead on Cue, the second book in the Nick Lawrence series, which should be published in the autumn - so watch this space. Once the editing is done and my income tax returns are put in (!) I intend to have some time off, so I'll tell you all about my serendipity as and when it happens.
Meanwhile, some photographs to please you, all of Lanzarote (click the thumbnails to see the larger pictures):
The first is the view to the sea front the hotel, the second the view of the swimming pool. The third is one I took in the evening, looking out to sea and taken from the balcony of our room. The fourth is César Manrique's house from across the lava beds and the next is of the sparkling pool created by a flow of water from the lava (his house is above and this is his garden). Finally, a jolly picture of Abrie de Beer himself (you'll recognise him from the picture above of me and Abrie, me looking far the worse for wear!).
By the way, if you want to keep up with my regular blog you can always ask to be my friend on Facebook. Keep reading
and love to you all from,
Deryn Lake.
June 2012