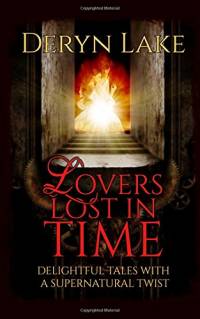 An enchanting collection of delightful tales with a supernatural twist.
Brought together into one collection for the first time, these spellbinding tales combine romance and rich historical settings to bring to life stories of lovers who - in one way or another - are all lost in time.
Ancient ruins bring together an unlikely couple; a young woman finds herself on the verge of sanity after a visit from a mermaid; a photographer finds a pair of mysterious twins occurring in her pictures again and again...
Includes:
The Moonlit Baths
The Gemini Syndrome
The Wardrobe
The Anklets
The Staircase
The Mermaid's Kiss
Mysteries unfold and souls are united in this new, charming collection from Deryn Lake, the mistress of historical fiction.
Order Lovers Lost in Time from Amazon in the paperback edition or download the Kindle edition.