Hello everybody,
I apologise for not having written an update since my Christmas holidays but things have been a bit hectic at this end. I am struggling to finish my latest book, Death and the Black Pyramid, by the end of March, and I don't think I am going to make it. It is the thirteenth novel in the John Rawlings series and at the back of my mind is the thought of what I shall do next. Well, I have an idea which I think you will like but I hope you will forgive me if I keep it secret at the moment. There is no copyright on ideas and so to put it up on the internet would be going a bit far. The only clue I will give you is that it is set a long way from the eighteenth century and involves very different people from the cast of the Rawlings mysteries.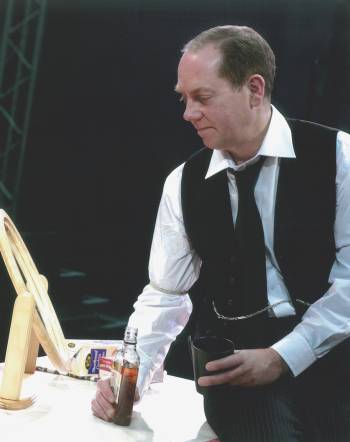 My life at the moment seems taken up with the theatre. First of all I went to the Courtyard Theatre in Hoxton to see my old friend John Elnaugh in The Death of Margaret Thatcher. Let me just say that this was not in any way tacky or sensational, it was merely a rational exploration of what would happen when that day comes. But my criticism of it was that it was not a play but three scena about how individual people would react. One was a television news reader, the other a young man going for psychiatric treatment and the third was a slightly sinister undertaker - played by John - whose job it was to deal with the remains. There were some very good performances but none of the people ever met or had any interplay so in a way the whole thing was slightly unsatisfactory. John gave a creepy portrayal of a man totally occupied by death, even changing his looks to appear more disturbing.
My second foray was to the White Rock Theatre in Hastings and couldn't have been more different. I went to see the Russian ice skaters in their highly colourful version of Beauty and the Beast. It was a brilliant show, wonderfully done, with glorious costumes and a pair of skating acrobats who quite took the breath away as they performed tricks high above the ice. The Russian man who played the Beast was seven feet tall and was an extremely powerful skater. In fact it was a show I would recommend to anyone for an evening of pure relaxation and magnificent spectacle.
Finally we come to Deathtrap by Ira Levin, the powerful author of Rosemary's Baby and The Stepford Wives. This is on at the Stables Theatre in Hastings and I have actually got a part in it, that of Helga ten Dorp the slightly mad Dutch clairvoyant. "Type-casting!" I hear you cry. It opens on April 11th and closes on April 19th. If any of you should live nearby please come and see it and have a chat with me in the bar afterwards. The Box Office number is 01424-423221 and it is now open for tickets. Besides myself there is a really excellent cast of actors and I would love it if some of you could be there.
Finally, let me apologise for the shortage of pictures. The one I have is of John Elnaugh and is taken from the play in which he recently appeared. I promise that there will be plenty next time, when I shall report back to you on how Deathtrap went.
Meanwhile take very good care of yourselves,
Deryn Lake
March 2008