Hello there,
Well, this time I have not only got plenty of photographs but I am going to show them all to you because I hope you will be interested. By the way they are all of my recent holiday.
As you know, I tried to pick a part of Spain that was not too built up, but even my efforts failed to a certain extent. The town of Moraira itself is full of ex-pats who wander gloomily round the supermarkets all vying with one another as to who is the most blonde and the most tanned - and all looking miserable as sin. And lying menacingly on the shoreline - distant but still visible - is that monstrous creation, Benidorm. I won't say too much in case somebody tries to sue me but the thought of spending a holiday there compares, as far as I am concerned, with a nightmare.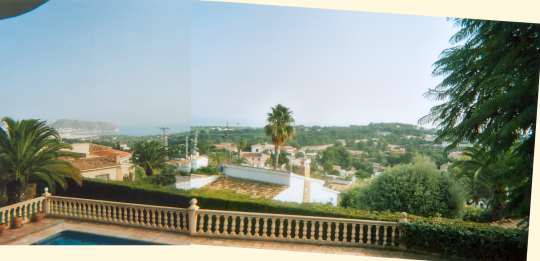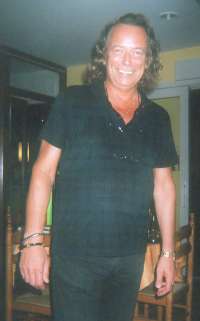 Fortunately, the villa that Vittorio and I had rented was out of town and up on a hillside overlooking the sea, with a beautiful panoramic view beneath. I have stitched my first two pictures together to show you the entire vista - though I expect you can see the join! We had hired a car at Valencia airport and so getting around was no problem and Vittorio - in the photograph on the left - was very good-humoured, easy-going and generally terrific fun to be with. In fact he contributed a great deal to the great time we had.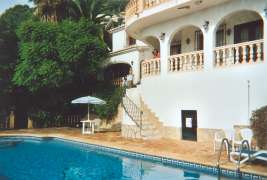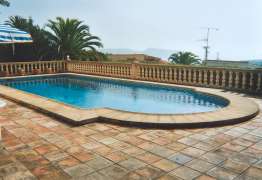 The next two photographs show the villa and the pool which we had entirely to ourselves. Unfortunately the water was not terribly warm. Despite the fact that Spain had had a heatwave this summer, the pool had a cleansing system - you can probably see it bubbling - which pumped in clean water, with the result that it was a bit nippy.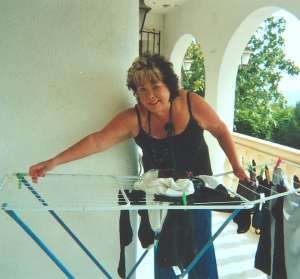 A woman's work is never done! The next photograph is of me pegging out a bit of washing with the gorgeous view in the background. And the next is of the two fabulous owners of the restaurant we frequented. They were German lads and both utterly charming.
Traders were allowed in to mingle with the diners, and the next picture is of a super young man who was registered deaf and dumb. He was so friendly and had the most marvellous trinkets to sell that I bought quite a few and was so glad when he came back a second time so that I could get some more. The final photograph is of Miguel who ran the Cafe Mozart - I was attracted to it by the name - where Vittorio and I sank a few bevvies.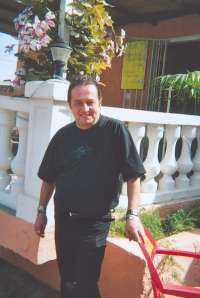 What impressed me most about the place was the privacy of the villa and the sheer enjoyment of going out to the cafes and restaurants where everybody works so hard to make one feel welcome. The food, needless to say, was excellent and I indulged in one of my favourite drinks, Sangria.
And now from the sublime to matters of business. I am pleased to be able to tell you that from now on I shall be published by Severn House - all their books are available on Amazon! - and that my next John Rawlings book will be published in the spring. The title is Death and the Black Pyramid, and it is about a bare knuckle fighter - amongst other things! Hope you all enjoy it.
I think I've waffled on long enough, so now there is nothing more to say except to wish all my readers in all parts of the globe a very Happy Christmas and a healthy and prosperous New Year.
Keep reading,
Deryn Lake
November 2008