Hello everyone.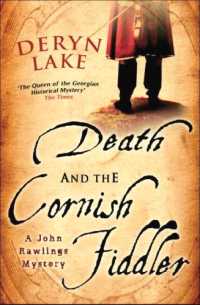 I'm delighted to say that publication of my books is now very close and I have been sent copies of Death and the Cornish Fiddler complete with a brand new cover. I think it works but I would love to have your opinion of it so please and let me know. Amazon are now open for orders both for Fiddler and Death in Hellfire, also with a new-style cover, so opinions please.
Now I have some very sad news to tell you. I'm afraid that John Rawlings will not be appearing on your T.V. screens after all. Let me tell you the whole story. In February of this year I was approached by Gillian McNeill, the fabulous producer who brought Bleak House, Vanity Fair and Casanova to your screens and who is, I am sure you will agree, the crème de la crème. I went with Rolf Stricker - who publishes my first six books, all of which are still available - to her studios in Camden, where we had a very positive meeting. She sent details of my books to the B.B.C., but unfortunately they came back with a no. She then sent them to I.T.V. who also replied in the negative. You can imagine how disappointed I felt. The reason why I didn't tell you all this earlier was that I didn't want you to go through the agony of rejection that I had to endure. But now that it is all over I can come clean about it. Those of you who feel annoyed are certainly at liberty to write to the authorities though I feel pretty certain it will get us nowhere.
Now on to pleasanter things. Cast your minds back to the August Bank Holiday weekend. If you recall the weather was absolutely dire in the South of England while in the West Country - so I was reliably informed - it was positively tropical. So I got on a train and off I went to Sidmouth. I left London in the pouring rain and as we approached Andover the sky literally rolled back and there was Mediterranean blue. I had a wonderful stay in glorious weather and went to see the Sidmouth Repertory Company twice. I also took some jolly photographs of them which I thought you would like to see. First is one of that excellent actor James Pellow; next comes my old friend John Elnaugh; and finally two of the younger members of the company, the very pretty Fiona McGregor and Alex Scott Fairley. A really excellent time was had by all and I hurried back to London on the Monday to await the arrival of my grandson, Fintan.
He and I spent a hectic week going out and about including going to the Natural History Museum which was heaving with children. They were queueing for the dinosaurs, which Fintan loved, particularly the life size model that moves and roars. No sooner had Fintan gone than I hurried over to Rye to see Martin Wimbush in his one-man show as the Duke of Wellington. This was extremely good and we all went to a reception afterwards in one of the old Rye pubs.
The next thing I went to was a spectacular book launch given by Ruth Dudley Edwards. Everybody who was anybody was there including the Marquess of Salisbury and Henry Kelly, the broadcaster. It was packed with authors and John took some photographs, two of the best of which I have picked to show you. One is of me with a gorgeous young man whose uncle was somebody famous. He appears to have a drink in each hand but this is probably an optical illusion. The other is of Ruth, busily signing books, and myself.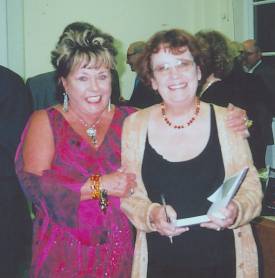 The last port of call in this rather hectic time was Joseph and the Technicolour Dreamcoat. Both John Elnaugh and I had voted for Lee Mead throughout the T.V. series and were delighted and thrilled when he got the part of Joseph. Anyway we went to see it on the 4th October and Lee was every bit as good as we had imagined. He is a natural and his great talent shone through the entire performance. The theatre rose to him at the end and he deserved every bit of applause he got.
And that brings me to a close. Do go and see JOSEPH if you get the chance. Take care of yourselves. And if you want to write to the B.B.C. or I.T.V. - or both - please feel free to do so.
All the best from
Deryn Lake.
October 2007