I am going to start this with an enormous apology to all the many fans who turned up to support me at Bodies in the Bookshop in Cambridge, last July, particularly Mandy, Pat and Anthony (with an aitch). The reason for this grovelling is that despite the fact I took some excellent photographs of you all, have looked at them since and have decided which ones I was going to use in the newsletter, I now cannot find them anywhere. I have hunted through my study - which is a sea of paper at the best of times - and nothing has shown up. So, my friends, I can only say that one day when they finally appear I shall print them all and my webmaster will go mad.
As you know Bodies was the usual great occasion, and I must thank the people who came to say hello to me. There were many of you, and it was so nice to meet the readers and hear your views. I was on a table with the Mulgray twins who, to be honest, are a bit frightening when you first meet them. They are identical sisters with short white haircuts and not a scrap of make-up on either face but who, when you speak to them and can penetrate their broad Scots accents, are very sweet people. They have been taken on by my ex-publishers, Allison and Busby, and are writing about an undercover agent and her sniffer-cat. I wish them the best of luck.
Let me tell you now that I have parted company with Allison and Busby and at the moment my agent is busily involved with other people. I can't tell you any more at this juncture because no contract has been signed but let me just say that things are looking very hopeful indeed. I will be able to report further by the time my next newsletter comes out.
Well, folks, I am off to sunny Spain on the 3rd October. Lots to tell you about that plus photographs - which I promise on my word of honour not to lose! Going with a pal from London called Vittorio who is an antique dealer and actor. It should be enormous fun.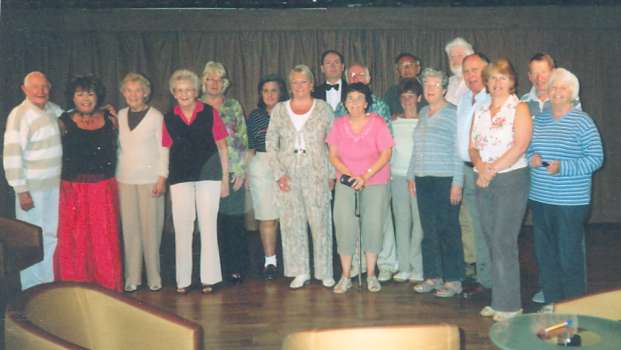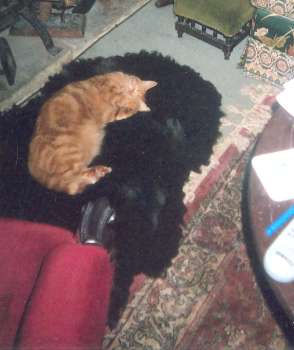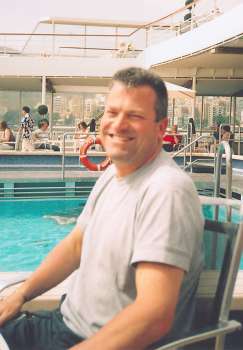 Meanwhile, I am enclosing three old photographs. One is of my cat Gus curled up on the black sheep hearth rug, the other two are of my writers group taken on the last cruise I went on, and my favourite travelling friend Matthew Biggs, who as you will all know is one of the famous B.B.C. gardeners.
Take care of yourselves -
and keep reading.
Deryn Lake
October 2008