Hello everybody,
well, I think autumn is here at last. Despite the beautiful weather during the day the nights are getting nippy and it is beginning to get dark early.
Anyway the last few weeks have been so hectic that I hardly know where to begin. First of all came Bodies in the Bookshop in Heffers in Cambridge. It was baking hot as it was held in July and there seemed to be more people there than ever but not so many buyers.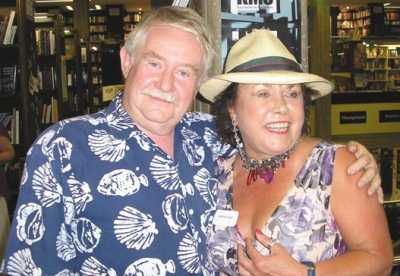 I travelled down on the train with Ruth Dudley Edwards and Joanna Hines and we arrived at 6 p.m. I saw my old friend Mike Ripley - picture above - and a whole crowd of us went out to dinner afterwards. I lost the last train home and had to spend the night with Ruth, who very kindly offered me a bed.
Early in August I travelled to Devon to see my friend John Elnaugh, the actor, in the Sidmouth repertory company. He was performing in Alan Ayckbourne's TAKING STEPS and was absolutely excellent. I came back on the Monday and almost immediately found myself caught up in the Crime Writers London Chapter. This proved to be an hilarious meeting at which my old pal Mo Lyle stunned the company with her witty repartee. She lives in Tunbridge Wells and I travelled back on the train with her, much to the amusement of our fellow passengers.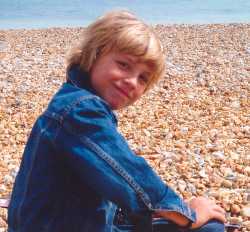 No sooner had I recovered from that than my friends Nick and Jane Ray arrived for the weekend and took me and my grandson Fintan off to see the airshow in Eastbourne. Fintan thoroughly enjoyed it and I include a photograph of him sitting on the beach. He stayed with me for a week and we went out and about to the Science Museum at Herstmonceaux and various other delights culminating in a visit to GUYS AND DOLLS in London. It was good but nothing like as wonderful as the original National Theatre production, which I thought was definitive.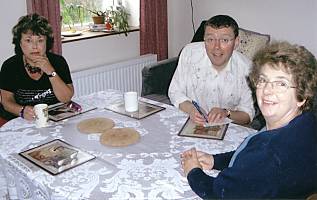 Fintan was collected by his mother on Friday and the following Friday I set off for Wales to stay with Reg and Marjorie Budd whom Mark Dunton and I met on the cruise. They had a fabulous house high in the mountains and treated Mark and I in quite the most hospitable manner.
We went to several local events and I was delighted to learn that Welsh was spoken everywhere. It made my old blood stir to hear it and I bought a tea towel with the Welsh language printed on it. Guess the first word I saw? Deryn, meaning bird.
I recounted the story of my great grandfather being a Bard of the Eistedfodd to an elderly lady called Blodwen. She was most interested. Here is a photograph of myself, Mark and Marjorie having morning coffee.
Anyway, back from Wales and down to really hard work. I have to finish the latest John Rawlings book by the end of the year and it is proving a real marathon. Never mind, that's the name of the game.
My love and best wishes to you all and keep reading.
Deryn Lake
XXX
September 2006