Hello everybody.
First of all let me tell you again about my book news. Apparently the paperback of Death and the Cornish Fiddler is to be published on November 26th. It has been kept waiting well over a year since the publication of the hardback but I am entirely in the hands of my publishers and there is nothing I can do about it. However Italy has beaten them to it and produced a very good edition so the Italians are one up on the English on that one.
Death in Hellfire is still scheduled for early December according to Amazon. And while I'm on the subject of Amazon, don't forget that the entire John Rawlings series is available from them as well as from your local bookshop, though I am afraid you will have to order it from both.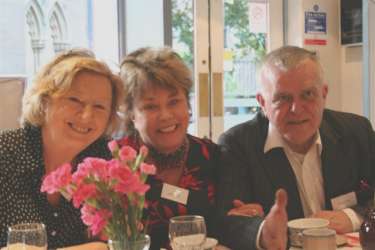 And now to my social life. I visited Bodies in the Bookshop in Cambridge and had a really good time. I went out to dinner afterwards with, amongst others, Ariana Franklin, Paul Doherty, Ruth Dudley Edwards and Mike Ripley, who organised the whole thing. Ariana has written a terrific book called Mistress of the Art of Death which is a strong contender for the Ellis Peters award. In fact if she doesn't win it I will want to know why. She is also the wife of Barry Norman, the T.V. film critic and a delightful man, very witty and quick and a delightful dinner companion. Ruth Dudley Edwards was her usual exuberant self and Paul Doherty, who is the headmaster of a large comprehensive school as well as being a prolific writer, was a fount of historical knowledge. It is his belief that Elizabeth I had a secret baby... but that's another story. Here's a photograph of me with Ariana and Paul seated at the restaurant table.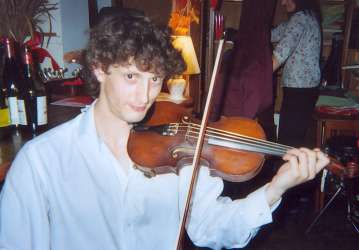 Having returned home, I went to a music club I belong to in Hastings where I had the great pleasure of hearing Nuri Koseoglu - his father is Polish - playing gypsy violin. Though trained as, and principally, a classical violinist, Nuri sometimes plays jazz, very much in the style of Stefan Grapelli. He was terrific and I have a photograph of him in action. I think if he could have a lucky break he would go really far. Is there anybody out there?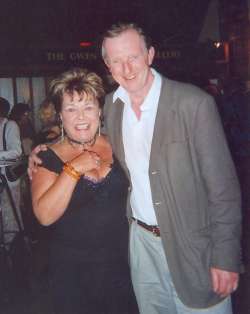 I then went to the Stables Theatre to hear Tom Owen, son of Bill Owen of Last of the Summer Wine fame, talking about his father. It was a one man evening during which Tom showed a lot of film clips and photographs and also sang, quite delightfully in my opinion. I spotted Martin Wimbush in the audience and had a photograph taken with him. It is horrible of me and I am only putting it up because I thought you wouLd be interested in seeing Martin. He is currently working on his own one man show about the life of the Duke of Wellington which he is performing at the Rye Festival on Sunday, September 2nd. Anyone interested in getting a ticket should contact the Box Office on 01797 - 224442. I am sure that those of you who saw the B.B.C.'s marvellous production of Vanity Fair will always remember Martin as the oily jeweller.
Finally I went down to Devon to join my friend John Elnaugh who was taking part in the Sidmouth Repertory Season. We stayed with another old friend of mine Jeff Bolam and his wife Diana. (Pictures of them next time). The season is doing well and I went to see John in a particularly hilarious farce called Toe in the Water. It is set in a Health Farm and has the usual coming and goings but was made memorable by the interaction between John and James Pellow, another seriously good actor, which was extremely funny. John had to dash back to London to audition for a part in the children's show Genie In The House. I am delighted to say that he got it and I will keep you posted as to when it is transmitted.
Well, folks, I must get back to work. Duty calls and all that. Take care of yourselves and I'll be in touch soon.
Best wishes,
Deryn Lake.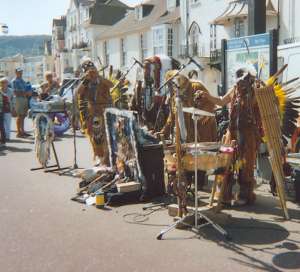 P.S. I am enclosing another photograph which I think might interest you. It is of a band of Native Americans - or Red Indians as I still politically incorrectly think of them - performing on the front at Sidmouth on genuine instruments. They were there to herald the start of Sidmouth Folk Week.
August 2007