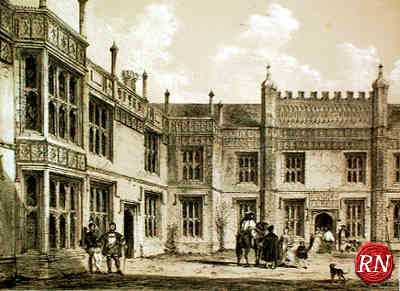 Sutton Place in an antique print from the stock of Richard Nicholson of Chester
Reproduced with permission.
Deryn Lake's first published novel was a romance (originally published under the name Dinah Lampitt) which eventually became the first book of a trilogy, linking together episodes from the true history of Sutton Place (near Guildford, in Surrey):
All three Sutton Place books are now available in Kindle editions: read more about each one below, or download the trilogy as a single volume.
Read Deryn Lake's account of how she came to write Sutton Place.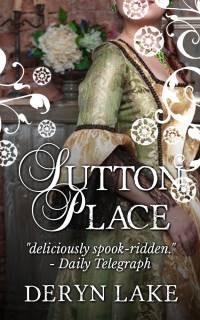 Sutton Place
The year is 1051: The beautiful and angry Queen Edith curses the ground her husband, Edward the Confessor, hunts on - and all its future owners.
Five centuries later, Richard Weston, a shrewd politician and rising member of Henry VIII's court, is awarded the land and builds a magnificent manor house.
But his family is living in the shadow of the curse and must soon pay its price.
For his son and heir, Francis Weston, will be executed for a crime he did not commit - adultery with Anne Boleyn.
As both the vivacious Francis and the mysterious Anne unwittingly sow the seeds of their own destruction, Dr Zachary, the celebrated court astrologer and the Duke of Norfolk's illegitimate son, tries to contend with dark forces beyond even his control.
But Sutton Place has not finished yet and centuries later Lord Northcliffe, a press baron, and Paul Getty, an oil tycoon, will also have to face the darkness...
Sutton Place, the first volume of Deryn Lake's haunting trilogy, masterfully blends fact and fiction as it traces the tortured destinies of all those caught up in the curse.
* * *
"Deliciously spook-ridden"
Daily Telegraph
* * *
Sutton Place is now available as an ebook, published by Lume Books: Download Sutton Place from Amazon
It was originally published by Frederick Muller Ltd in 1983.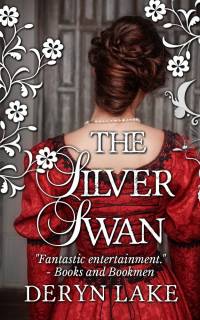 The Silver Swan
It is the early 18th century, and all is not well behind the gates of the magnificent Tudor mansion, Sutton Place.
The house's chatelaine, Elizabeth Weston, is fleeing her home with her strong-willed young daughter Melior Mary in tow, into the arms of celebrated poet Alexander Pope.
Her flight causes a scandal in society, and not least with her husband John Weston, the latest in a long line of proud Westons to live at Sutton Place.
But is it merely fate which takes a hand in the twists and turns in the lives of the illustrious Weston family - or are there darker forces at work?
For legend has it that Sutton Place is gripped by an evil curse from which no Weston can escape.
When it comes to the turn of the beautiful, mysteriously youthful Melior Mary to inherit the house, what will fate decide?
Destined to have two great loves, will the ravishing Silver Swan ever know true happiness?
With its skilful weaving together of the true, great historical characters from the age - poet Alexander Pope, Jacobite spy Captain Charles Wogan, the great 18th century rake Joseph Gage, and Bonnie Prince Charlie himself - the second in Deryn Lake's Sutton Place trilogy is a sweeping, romantic, haunting, historical epic.
* * *
"Deryn Lake researches her books with care and weaves facts into a story that is satisfyingly romantic and impressively researched"
Publishing News
"Fantastic entertainment... An island of pleasure, of magic and mystery"
Mollie Hardwick, Books and Bookmen
* * *
The Silver Swan is now available as an ebook, published by Lume Books: Download The Silver Swan from Amazon
It was originally published by Frederick Muller Ltd in 1984.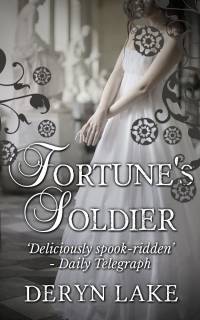 Fortune's Soldier
The early 19th Century: Lady Horatia Waldegrave, daughter of the sixth Earl Waldegrave has fallen for Captain John Joseph Webbe Weston, a soldier of fortune for the Austrian Emperor.
But John is heir to Sutton Place - and the dreadful curse that comes with it.
In 1048 Queen Edith, driven mad by jealousy, cursed the ground her husband, Edward the Confessor, hunted on and all its future owners.
And since then all subsequent generations have been plagued by terror and misfortune.
Now John and Horatia are being drawn into its web ...
Can they find a way to free themselves from this ancient grudge?
Or will their love be doomed by forces out of their control?
Fortune's Soldier completes the SUTTON PLACE trilogy, a highly acclaimed history of the curse that was to hang over all those fated to own the doomed manor of Sutton.
* * *
Fortune's Soldier is now available as an ebook, published by Lume Books: Download Fortune's Soldier from Amazon
It was originally published by Frederick Muller Ltd in 1985.
More romantic tales from Deryn Lake