Well, my friends,
again I apologise to you for the long delay. I left you basking in Bavarian sunshine and enjoying a mad weekend in Devon when I laughed so much that my sides and everything else were aching, but then it was back to reality and the thought that I really must get on with my book. For those of you who don't know already this is another John Rawlings and is set half in London and half in Devon.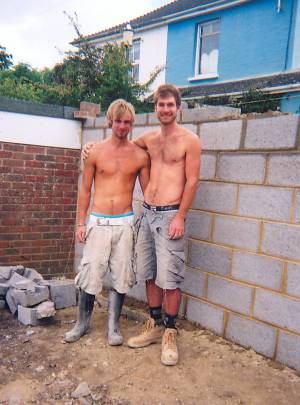 It already has a title, Death at the Wedding Feast, and though my number of words per day has dropped I must say the writing style has been unaltered by the fact that I had a run in with cancer a couple of years ago. But enough said about that. Back to the book.
The deadline is the end of February which is going to mean some long hours after Christmas. Anyway I have got to finish by 14th March because that is the day - haven't booked it yet but I'm hoping - that I am going to see the Northern Lights and travel in a sledge pulled by huskies. I am going with Mark Dunton, star of the National Archives, and it is achieving something that I have wanted to do since I saw Joanna Lumley's programme about it on T.V. By the way I shall be crossing the Arctic Circle during the trip.
What have I been up to since I got back from Devon? Well, we had two handsome builders doing some work on a house opposite which caused quite a stir amongst the local ladies. They posed for a photograph for me which I thought I would put in to please my female readers. My house is the dark blue one behind them with the dressing table in the window. The tree outside is covered with blossom in the spring and I have a scented creeper round the front door.
Then my grandson Henry had his eighteenth birthday party. My son-in-law, Paul, brought his banjo, which he plays very well, and accompanying him on drums in the second photograph is my grandson Elliot. Third photo is Paul, Elliot and Henry.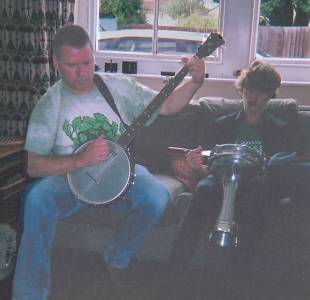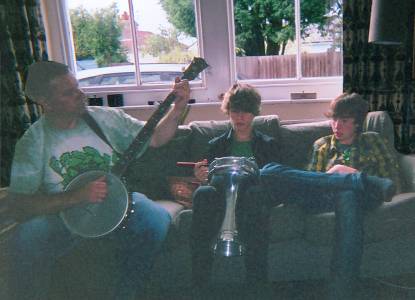 Other than that I have only a few things to report. Went to hear the great organist Carlo Curley play the Welte Organ at David Salomon's house, which was a tremendous event. Then went to Finchcocks to hear Young Singer of the Year. As usual the judges chose entirely the wrong person. What the hell are they looking for is what I want to know? There was a clear winner to me, a young American baritone, Marc Callaghan, who is currently singing with Opera South. What a star.
And that is about it except to say that I was chucked out of a local drama group because I lived too far away. I was extremely hurt by this and know that the entire thing was caused by one scheming and rather nasty person. Ah well, there are a few of them around wherever you go. There's always one, as they say. But away with melancholy!
With my very best wishes for Christmas and a happy and healthy New Year -
Deryn Lake.
December 2010