Dear Reader (if I have any left after the long delay!),
Well, you may have been wondering what I have been up to since I last wrote to you: the answer is quite a lot. Actually the truth is that I enjoyed seeing my photographs at Celia Imrie's book launch so much that that is the real reason why I haven't been in touch for so long. But enough of this idle chatter = what have I really been doing?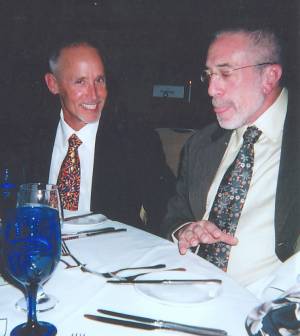 In May I went to Crimefest, a well organised conference of writers held in Bristol. It was made all the more special for me by the presence of my old friends and colleagues, Lindsey Davis and Steven Saylor. Readers will know that they both write Roman crime series, and I once attended a hilarious lunch at Lindsey's in which she and Steven pretended to murder one another. There's a photograph of it on Facebook but I'm not clever enough to know how to reproduce it here. Anyway, in truth they are the greatest friends.
I first met Steven in America at a most peculiar conference called Historicon held at Boulder, Colorado. He and I hit it off from the start and I can distinctly remember him wriggling around on the floor and peering through somebody's keyhole. Nuff said about that I think. Anyway, I believe he must have a portrait in the attic because he never ages by a second. Just to prove it I have included a photograph of him looking particularly devilish at the formal dinner on the last night. Next to him is sitting our old friend Rick Solomon, sticking his tongue out. Aren't they wearing wondrous ties?
In July I went to Devon with another old friend, John Elnaugh. We had an action packed time, staying first in Sidmouth where we saw my cousin Greta Jensen. She is very witty and amusing and we all laughed like mad. That night we went to the Manor Pavilion Theatre and saw the Sidmouth Rep performing Absurd Person Singular. We were also reunited with our great friends the Bolams in the bar. (That sounds like a party game). We then moved on to stay with the Bolams at their house in Devon, then off to stay with the actress Amanda Barrie in her house in Somerset. Talk about a tour of the West Country! We went to see the Sidmouth Rep once more, this time in Night Must Fall. They had a super young actor playing Danny - terrific boy - and a great number of the audience spent the interval staring at Amanda thinking, 'I know that face'. The answer is Alma in Coronation Street.
I next whirled down to Cambridge for Bodies in the Bookshop. To be honest, I didn't enjoy it as much as previous years, probably because all the history mystery writers were bunched together on one table and most of them seemed to be young and edgy, making me feel as old as God's aunt.
I got back just in time to greet Ellie, a German girl of 17 who was coming to stay with me for six weeks in order to improve her English. She had the looks of a super­model and towered over me. The young men formed queues to meet her and I felt like a duenna. Anyway she filled the house with her happiness and nobody could have been more sorry that I was when she finally returned to Germany. She loved watching television - on the rare occasions when she was in - and avidly watched The Borgias with me.
No sooner was Ellie gone that it was my book launch. The latest John Rawlings was published: Death at the Wedding Feast - and if you haven't got a copy, please hurry, hurry! All the old pals were there including my wonderful agent, Vanessa Holt, and two fans from Cambridge - Mandy Hart and Helen Course. Hans and Tricia Petri turned up and were a great asset to the company, as was my latest heart throb Jonathan Dove, who composes the most wonderful operas and is a man of great magnitude. Carmen Bailey battled through all the way from Chiswick and the whole evening was rounded off by the owner of Goldsboro Books, who was absolutely charming and made it all a huge success. Thank you so much David.
You are nearly up to date with my adventures but for one thing. Celia Imrie, who is just one of the nicest people in the world, was appearing in a play called Drama at Innis at the Finborough Theatre, Earls Court. This tiny theatre is above a pub and is just the greatest fun to be in. We sat in the front row and could see all the actors at really close range. Let me tell you that they were all superb, particularly Celia. If ever a show deserves to transfer to the West End this is it. It is funny, touching and generally terrific. It was directed by fellow writer Fidelis Morgan and my heartiest congratulations to her for a wonderful production.
Now for a gallery of my photographs:
Above are Steven Saylor and Rick Solomon, then in the gallery my fan Mandy Hart - her eyes really are that turquoise colour. Third is David, who has made Goldsboro Books so special and my grandson, Henry (on right). Next comes me with Mark Dunton of the National Archives and a bearded John Elnaugh. Me and my agent Vanessa Holt (bless her). Carmen Bailey, me and Jonathan Dove in earnest conversation. Finally, me and Jonathan having a good giggle.
That's all, folks. I just have to wish you all a very Happy Christmas and a healthy New Year. (I think 'prosperous' has gone out of the window).
With my very best thoughts to one and all. My New Year's resolution is to write newsletters more regularly. Keep reading,
Deryn Lake.
December 2011