Hello everyone,
First of all let me wish every one of you a very happy and successful New Year, secondly let me apologise for being such a long time in preparing this Newsletter. Truth to tell I intended to write you one just before Christmas but what with doing the cards, wrapping the presents and so on and so forth I completely ran out of time. So many excuses all round.
Let me tell you about the end of 2007 before I go on to where I spent Christmas. I went down to Buckinghamshire during the first week of December to stay with Nick and Jane - my very old friends - and we visited the fabulous Waddesdon Manor, former home of one of the Rothschilds. Apparently it is haunted by an elderly Miss Rothschild's female companion, though I personally didn't see her. However the house was lovely, built on the lines of a French chateau, and it was particularly impressive coming up the drive to see the beautiful place floodlit, with lights glowing in the trees. Afterwards we went out to dinner in The Five Arrows - a nickname given to the five Rothschild brothers - and then went back to Nick and Jane's charming thatched cottage.
As you know, my paperback of Death and the Cornish Fiddler and my hardback of Death in Hellfire were published on the 6th December and this year, I'm afraid, we had no book launch to mark the occasion. Instead I went to the Crime Writers' Association Christmas party which was held at the Tappit Hen in William IV Street. To be perfectly honest with you I found it rather disappointing and was quite glad to leave and get the train home. However, the good news is that my paperback has been accepted by W.H. Smith for sale at the airports and railway stations and a friend of mine bought a copy on the way to Norway, which pleased me enormously.
On 22nd December I left home for Christmas after having exchanged presents with my son Brett, his wife Sally, and three of my grandchildren. I went to the hairdressers and straight on from there to a fabulous party given by two old friends of mine, Charles and Virginia Purle. They live in a hugh Georgian mansion - there's no other way to describe it - situated near Uckfield in Sussex. Everything about the party was perfect: the food and the wine, the other guests, and particularly the musicians, a girl singer who sang smokey jazz, and her pianist. Fortunately I was invited to stay the night (!) and so after a hearty breakfast served by the amazing Virginia I set off for my daughter, Amanda's.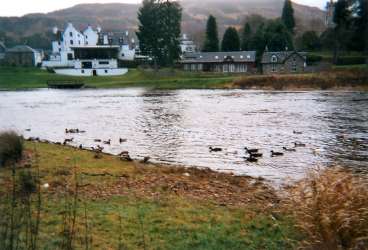 She was giving a lunch-time party but fortunately this didn't go on too long and we all had an early night because the next day, Christmas Eve, we got up at three o'clock in the morning to fly to Glasgow. We arrived there at just after eight and picked up a hired car and drove through the Trossachs to Loch Tay. I can't tell you how splendid it was. The hotel - the Kenmore - was situated in the most beautiful scenery and was right on the banks of the River Tay just where it flows into the Loch. I have enclosed a photograph for you to see the hotel, which is the white building. Robbie Burns went there and wrote a poem on the wall of the bar which I am certain is genuine. It has glass over it to protect it but it is written in a long flowing hand and looks absolutely authentic to me.
The next morning being Christmas Day we went for a long walk before lunch and came across a deserted castle, Taymouth Castle. To say that I fell in love with the place is an understatement. I wanted to move in and claim squatters rights. It was built at the height of the Victorians' love of Gothic architecture and was completely empty and unloved. Apparently it is currently in receivership but it would make the most stunning hotel. If there is anybody out there with several million to invest I would recommend them to go and have a look at the place. Or else I really think I might take a gang of my friends and relations and make good my threat.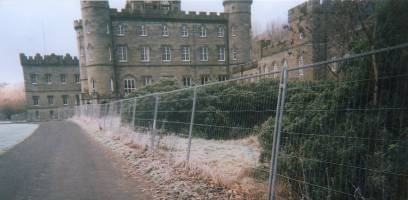 Scotland at Christmas time truly is magnificent and, to prove that, I am enclosing two more photographs. One is extremely atmospheric and shows myself, my daughter and my grandson, Fintan, on the track to the castle. The other is of one of the finest views in Scotland with the Highlands in the distance.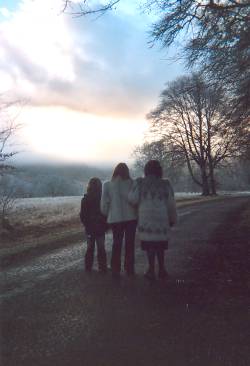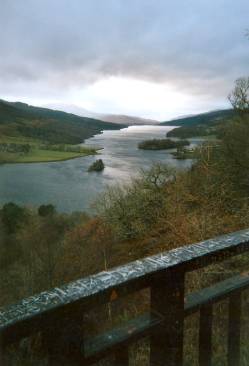 I just must tell you quickly of an amazing pub we discovered on the way back to Glasgow airport. I can't tell you where it is situated except that it is on the main road and has a huge waterfall thundering down the mountains behind it. It is called the Drovers Inn and was built in 1705 and I swear has had nothing done to it since. I entered the main bar - a long, low room - and at first could not see a thing except for the glow of candles. After my eyes adjusted I saw that the entire place was candlelit and was full of tables and chairs tucked away in nooks and crannies. There was a huge log fire roaring at one end of the bar and not a sign of a fruit machine anywhere. We ate neeps, haggis and tatties and could have sat in those evocative surroundings all day but, alas, had to make our way back to the airport.
But my return was not all doom and gloom. On 6th January, 2008, Lindsey Davis, the best-selling writer who loves all my grandchildren enormously, took us all out to Drury Lane Theatre, to see the musical version of The Lord of the Rings. It truly is a fabulous show, wonderfully well staged and extremely colourful. Henry, my eldest grandson, who is incredibly tall, was put in charge of all of us and we duly behaved ourselves with circumspection.
And that is all my news to date. Once again let me wish you a very splendid New Year, accept my apologies for the long delay in writing, and take care of yourselves.
Deryn Lake
January 2008