Hello everyone,
Well, I have emerged unscathed from the rigours of Christmas and New Year, so let me start off as usual, in other words apologising to all of you for not sending a Christmas letter wishing you all the best. I know that my kindly webmaster sent out a message on my behalf, but now here I am in person and ready to continue where we left off.
I left you last in September, where I had my one and only holiday of 2009, going to Devon and visiting friends Jeff and Diana Bolam for a brief weekend stay. On the Saturday they whisked me off to the Manor Pavilion in Sidmouth to see a play about Sherlock Holmes (it was a matinee performance).
Though I didn't mention it at the time, John Elnaugh and I had a falling out in 2008 and were no longer in touch with one another. But clever Jeffrey had phoned him in advance of my arrival and invited him out to dinner. I knew nothing of this and so not only had the pleasure of seeing my old friend play Sherlock Holmes again but also seeing James Pellow, an actor I respect greatly, take the part of Dr. Watson. This was followed by the famous dinner and John and I started our conversation just where we had left off last time.
In short it was a great weekend because the next day we had glorious hot sunshine all day and went for a delightful walk along the banks of the River Otter. It seems a million miles away now as I look out on a scene which appears to be set in remotest Siberia. For that reason, oh fellow snowbound people, you'll hate the pictures but I'm going to show you them anyway.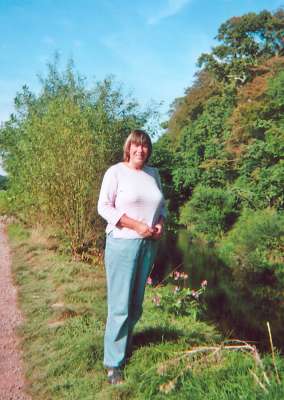 Photograph one shows me and Jeff Bolam taking our ease in an arbour; the second is of his wife Diana standing by the river bank; and the third is of the river itself, taken by me from a little bridge that crosses it. Though I say it myself I think it is rather good.
October and November saw me going like a fury to finish my new book The Mills of God. My agent, the delightful Vanessa Holt, was fussing at me, the publishers were fussing at her, but I got it done and went, clutching the manuscript, to have lunch with my new editor, James Nightingale. He was absolutely divine and we got on terribly well. To cut a long story short both he and Vanessa are delighted with the new book which is to be published in May. But you'll be hearing plenty more about that before the time comes.
As you know, I had an absolute scramble to get ready for Christmas but I made it and started the celebrations by going to a terrific party given by my son Brett and his wife, Sally. He invites practically everyone in the street to go along. I had a goodly amount to drink and was delighted at being called a Bohemian Woman by one of our neighbours. I shall certainly try and live up to that one in 2010. Christmas Day I drove to my daughter's and spent a jolly day with her and her family, then I drove home on Boxing Day morning and spent the rest of the day chilling out.
New Year's Eve was quite splendid - I went to a marvellous showbiz party but I can't say who invited me or who else was there because I promised not to. Sorry. New Year's Day I went to a much quieter but for all that still a very merry lunch time party and the next day went to an early Twelfth Night party, given by an intrepid friend of mine called Fiona Brown, where we did an impromptu version of the cross-gartering scene from the play by W.S. I found myself playing the part of Feste and having to sing Oh Mistress Mine without any form of accompaniment. I carried it off and filled the room with my melodious mezzo voice (I wish). However, there were no hisses and boos and everyone seemed to enjoy it.
And that's it for now, folks. The proofs of The Mills of God have arrived and my publishers want them returned yesterday. Such is life.
Goodbye for now. Plenty of photographs next time and may I wish you all a happy and healthy New Year.
Keep reading!
Deryn Lake
January 2010