It is May already and April has gone by in a flash, which proves the point that time flies when you are busy. And April really has been a busy month. There have been the usual social outings, including visits to my most delightful friend Susan Wilding, who lives in Hastings with her husband Michael. He is actually the stepson of the famous Michae1 Wilding and is currently writing a book about his experiences and about his stepfather. I think it promises to be a winner when it is published. Anyway, I often call in there on a Saturday and thoroughly enjoy their company - punctuated by a great deal of laughter and noise, I might add.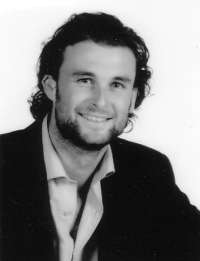 I promised to tell you about the opera I went to: it was Tchaikovsky's EUGENE ONEGIN and the leading part was taken by a young singer, James, who is the son of two friends of mine, Anne and Neil Cleverton. The photograph is of James and he is currently touring in IL PAGLIACI, so if he comes near you do make a point of going to see him. His performance was excellent, firstly because he is so handsome that he dominated the stage. But, more importantly, his diction was first rate and one could understand every word - it was sung in English, by the way.
As I said, James stole the show, though the soprano was very good also. But I didn't like the production at all. It changed the period in which the opera was set with every scene, so that having started in nineteenth century dress it ended up in modem. Apparently it was trying to show the timeless quality of the love story but to me it merely muddled the audience and caused general confusion. Not a good idea.
However, the main thing I have to tell you about is the Crime Writers' Conference in Ireland. It was held in Malahide, nine miles east of Dublin, and took place in a presitigious hotel, namely The Grand. Malahide is on the coast and has a smart marina and lots of gorgeous restaurants. We had quite a few big names attending; Lindsey Davis, Peter Lovesey and Peter N. Walker, who wrote the original HEARTBEAT for television under the name Nichlas Rhea. As I promised I have a few photographs but these will have to be developed before they are ready to go up.
We had four terrific speakers; Dr. Peter Heaney, who spoke on the developments in medicine in the 19th century; Chief Superintendent John Farrelly of An Garda Siochana, who talked brilliantly about his life and adventures; Dr. Ann Ferguson, who gave an excellent lecture on the poison Curare; and Paul Williams of the Sunday World, who talked of the murder of Veronica Guerin and The General. Ireland now suffers with a terrible drugs problem and he told us that the criminals are waging a war against him, including attempts to malign his character and accuse him of heaven alone knows what.
My friend John Elnaugh, the actor, joined us on the Saturday morning just in time to go on the excursion to James Joyce's Martello Tower at Sandycove. We all crowded onto a bus and went to the tower which, to be honest, I found a trifle disappointing. I didn't like the sound of Joyce at all; he begged hospitality off his friends and then wrote horrible things about them. He seemed mean-spirited to me. Furthermore the tower had a terrifying spiral staircase which I found rather hellish. That apart, the conference was a great success and a good time was had by all. Despite thefact that I lost my front door key and my car key somewhere in the Emerald Isle I can truly say that I had an excellent time.
And there I have to leave you. Time and space are both running out. I'll write again in a month's time and tell you all about my adventures on the cruise I'm going on.
Till then take care,
Deryn Lake
XXX
May 2006